Keyaira Boone
6 Thoughts on "Beychella"
There are many performers, fewer artists, and only one Beyoncé. This weekend Big Sister Edge Snatcher reframed Coachella into #Beychella with a spectacle so captivating that it made the Beatles on the Ed Sullivan Show look as culturally significant as a Love & Hip Hop studio session. These are my initial thoughts on the third time Queen Bey blessed by stopping the world with BΔK INCORPORATEDDDDDDDDD. 
1. GDIs Are About to Rejoice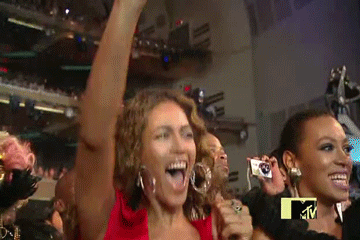 Historically black greek organizations are a wonderful asset to the black community. The legacy of the divine nine can be found everywhere from the senate chamber to the silver screen. Membership is a badge of honor. It's also expensive and time consuming. When I was in college I was more concerned with making it to the 52 bus stop than securing the means to gain thirteen new sisters. Now that I'm nearing thirty I sometimes feel like I missed out on that opportunity for sisterhood but now I've finally found a sorority that I can pledge with ease. I just hope BΔK merch comes in my size!
2. Happy Looks Good on Michelle
Michelle has always gotten a bad rap. Sharing the stage with two women literally raised running in heels she's gotten criticized and judged for daring to appear human in the presence of Beysus and Saint Kelly. For years she took the shade in stride but around 2016 she stopped playing small, shrugged off the haters, and publicly stepped into her power on and off of the stage. Her newfound confidence was apparent in what many are calling her best performance ever!
3. We Need a Solange and Rihanna Track Asap
Watching the mood board mistress wind her hips with her big sis on the very same stage she slayed four years ago assured me that she could definitely keep up with everybody's favorite bad gal. I'm gonna need the two of them to get with Sza and make it happen!
4. O.T Genasis Stay with a Smash!
Those who predicted "Mr. Baking Soda" would be a one hit wonder have some serious egg on their face. He seems to pop up every summer to remind us that like Sallie Mae and liberal racism he ain't going nowhere! 
5. I Hope Kylie Jenner Hive is Paying Attention
From rocking seventy five dollar Champion Sweats to swearing "cornrows" aren't a thing, the Coachella target audience can be a teensy bit problematic. Here's hoping that between sips of Molly hydration and vape filter changing they got the message because judging by their response to Teen Vogue's Jessica Andrews they clearly need it.
6. Is Parkwood Hiring? 
After watching a display of blackness that felt like it was anointed by the ancestors I'm ready to trade in awkward break room conversations and daily microaggressions for the chances to be Blue Ivy's personal crayon sharpener. Slide me an application sis! 
Bonus Thought:
I Can't Wait To See What Miss Tina Has to Say About This!
If you're not following Beyoncé mama on Instagram I really don't know what you're doing with your life! Miss Tina gives no damns, expressing herself with the confidence that only someone who had given birth to a living icon could and I know we're about to get some A1 classy clapbacks in response to the think pieces that are bound to run amok after this display of melanin infused excellence.  
What did you think about Bey turning her performance into a celebration of HBCU culture? Were you here for it? Share your thoughts below!
#Beyonce #Solange #hcbu #destinyschild #beychella #BΔK #teenvogue #JessicaAndrews #JessicacAndrews #Coachella #culturalappropriation #KellyRoland #ontherun #ontherunII #OTGenasis #sza #GDI #rihanna #blueivy #parkwood #parkwoodentertainment #tinaknowles #cornyjocktime